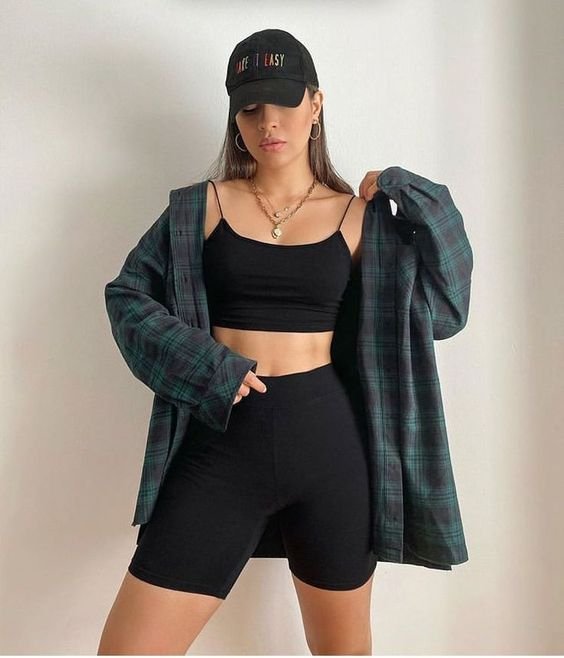 From Casual to Glam | The Best Biker Short Outfits
Biker shorts. They're ubiquitous on the trail,  during a race, and most of the Summer in bike-friendly coastal cities. But can these practical, snug shorts be fashionable? Are there ways to combine them with everyday athleisure wear for a stylish look?
While sometimes looked down on for being a bit…tight, biker shorts play a key role in helping improve mobility, increase blood flow to tired legs, and allow hips and knees to flex freely when pedaling away. 
In many ways, biking shorts aren't too different from contemporary styles like compression shorts, capri leggings, and training tights. Let's introduce you to some stylish, pleasing, and versatile ways to mix and match your best pair of biker shorts with tops, shoes, and hoodies for a street-ready, congenial look.
Getting Used to Biker Shorts
One of the slightly frustrating things about some cycling shorts is how incredibly tight they can be, even compared to athletic wear like leggings or compression shorts. There's just not a lot of room in the crotch area, and many wearers can find this a bit awkward. 
Try on a few different sizes to make sure that you have plenty of mobility, but are still comfortable where it counts. You don't want anything riding up, and you also don't want to be too constricted. You'll notice that some cycling shorts have a few extra panels and parts that normal shorts lack.
The "chamois" (pronounced "shah-mee") is a dense, molded layer of padding that protects the crotch and bottom from uncomfortable friction when riding. Not all biking shorts have these, but tougher, professional shorts often do. They might remind you a bit of spats shorts, only with the protective padding in a different area. 
Other types of biking shorts are quite looser and resemble Bermuda shorts. They're perfect for more casual riding as opposed to long races and look best with streetwear. Finally, some biking shorts are essentially stretchy, compression shorts made for cyclists. 
What Kind of Waistband Should You Pick?
Biking shorts can be low-rise or high-rise. The higher waistband can help you look sleeker and smoother while pairing well with a wider range of sleeveless or cropped tops. Low-rise shorts have a cuter, more playful look and would look best with long-sleeve tops for contrast. They're a bit more breathable, too, and would work well with a bikini top paired with an open blouse.
Consider how much coverage around the hip area you need. High-waisted variants can eliminate muffin-top and give you a more flattering silhouette no matter what your size. They're also more comfortable on the bike trail and work better with dressier tops as well as more casual clothes.   
There are a ton of ways to pair these shorts with casual athleisure tops; let's cover a few cute looks below. 
Pairing Cycling Shorts With Casual Tops
What kinds of tops go with biker shorts? Like many types of shorter bottom layers (like tennis skirts and short shorts), these shorts often look best with long-sleeve tops. These can be anything from a sweatshirt or a hoodie to a jacket or even a sweater in cooler weather. The tight, cropped look of the shorts is offset nicely by the longer sleeves and more formal vibe of the upper half of your body, which can be helpful in evening out your look. 
Another great choice for making bike shorts casual everyday wear is a cropped tank top or a high-neck sports bra. Both of these tops help provide a consistently fluid, fitted silhouette that works well in the Summer, in warmer climates, or on the beach.
This look works best with cycling shorts that more closely resemble traditional activewear. If you're wearing padded shorts, avoid this look as the bulk of the padding will stand out quite a bit when contrasted against your sleek top. 
If rocking padded shorts, stick with looser and longer tops, or layer a tunic-length unbuttoned top with a sports bra or tank top for more coverage and balance. You'll look more streamlined and feel more confident, too. For guys, we recommend a longer, unbuttoned work shirt worn over the padded shorts either alone or with a muscle shirt underneath. 
Do the colors have to match? That depends entirely upon you. Biker shorts are often monochrome and lend themselves to being paired with a wider variety of patterns and colors on top. Feel free to mix up black shorts with a pastel or striped loose top, or fuschia shorts with a black sweater. More complimentary would look great if wearing these shorts with a fitted tank or sports bra, though, and would allow you to look a bit more put-together.   
How To Glam Up Biking Shorts
Remember the long-sleeved tops we suggested above? They work great at dressing-up cyclers' shorts. Try a dressier, long sleeve blouse with your shorts for a more put-together look.
Footwear is also important if your shorts need to reflect class. While flip-flops work great with a casual look, they won't do at a nice sit-down restaurant. Strappy, heeled, or wedge sandals would look great here. You'll add some height and some class, especially if you match the shoes to your shorts.  
Jackets and crew-neck t-shirts are another fun way to make your shorts look a bit more dressy. Pair loose, flowy jackets with a tighter top underneath for a layered, more professional look. The sleeker the shorts the better this will look, and you can even move from the boardwalk to the gallery without anyone batting an eye.
Another great option is to pair these bottoms with a semi-sheer maxi or midi skirt. The shorts can add some coverage while the longer skirt dresses up the look. Pair the skirts with either short sleeve or sleeveless tops for a balanced, Summery look. 
Very short, showy dresses can easily be paired with biking shorts, too. A recent trend is a very short dress with long sleeves and feminine accents. While some women may feel comfortable wearing these dresses as is, if they feel too short to you, pairing them with riding shorts can add a bit of coverage while still letting you look beautiful.
How Not To Wear Your Biker Shorts
There are some definite "don'ts" with biker shorts, though. These are already very casual garments, and it's not hard to make them look so casual that you're underdressed in almost any context.
We don't recommend wearing bandeau-style bras with shorts for cycling unless you pair them with an unbuttoned loose blouse on top. Single-strap asymmetrical sports bras are fine, but the solo bandeau look is too tight and can make you look puffy. 
Be aware of how tight the cycling shorts are around the crotch. Excessive tightness is more of a problem for men, but women can experience discomfort and awkward ride-up here, too. Keep yourself comfortable and tie a long-sleeve top around the waist if your groin area is a bit too noticeable. 
If your shorts have a chamois or extra padding, skip the underwear. You'll wind up getting too hot down there, and the addition of undies can restrict blood flow or trap body heat in weird ways. One exception to this is choosing padded underwear alongside non-padded shorts. You'll stay comfortable without getting too hot and can still ride easier.
Final Thoughts
Biker short outfits are easy to put together with the right layers and thoughtful matching. Pair them with a long-sleeve top or combine them with a tank top and a long, open shirt for a pretty layered look. 
Casual tops include sports bras, single-strap asymmetrical sports bras, tank tops, and biker shorts. Flip-flops would look great here, and be ideal for an informal Summer day. Match low-rise shorts with a sleeveless top or sports bra for a sleek aesthetic or combine them with a semi-sheer maxi skirt for a feminine, dressy look. To glam-up biker shorts, layer with a longer tunic top, jacket, or blouse, and boost your footwear with wedges or strappy heels. 
Avoid wearing underwear if your biking shorts have a chamois or heavy padding along the rear and crotch. Layer with longer tops or tie a shirt around your waist if the shorts look too snug for your tastes and always make sure your mid-section can breathe.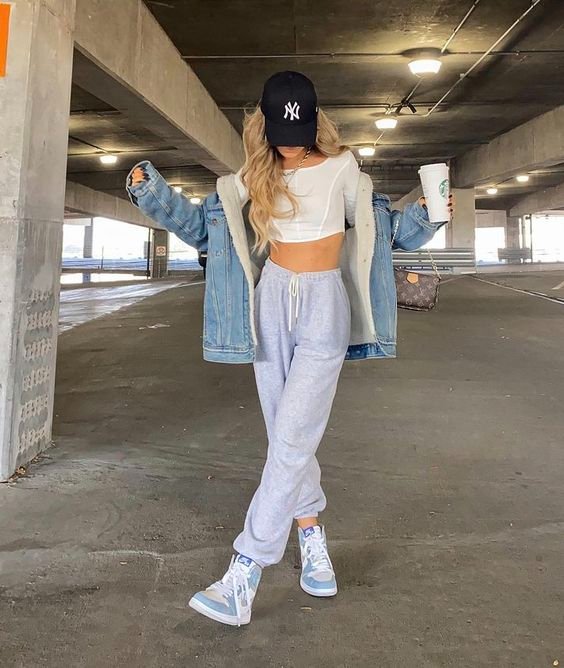 Lululemon is a justifiably popular brand with a passion for high-quality, timeless-looking, and super comfy athleisure wear. Famous for their yoga gear, Lululemon has expanded their reach to includ...
Read more