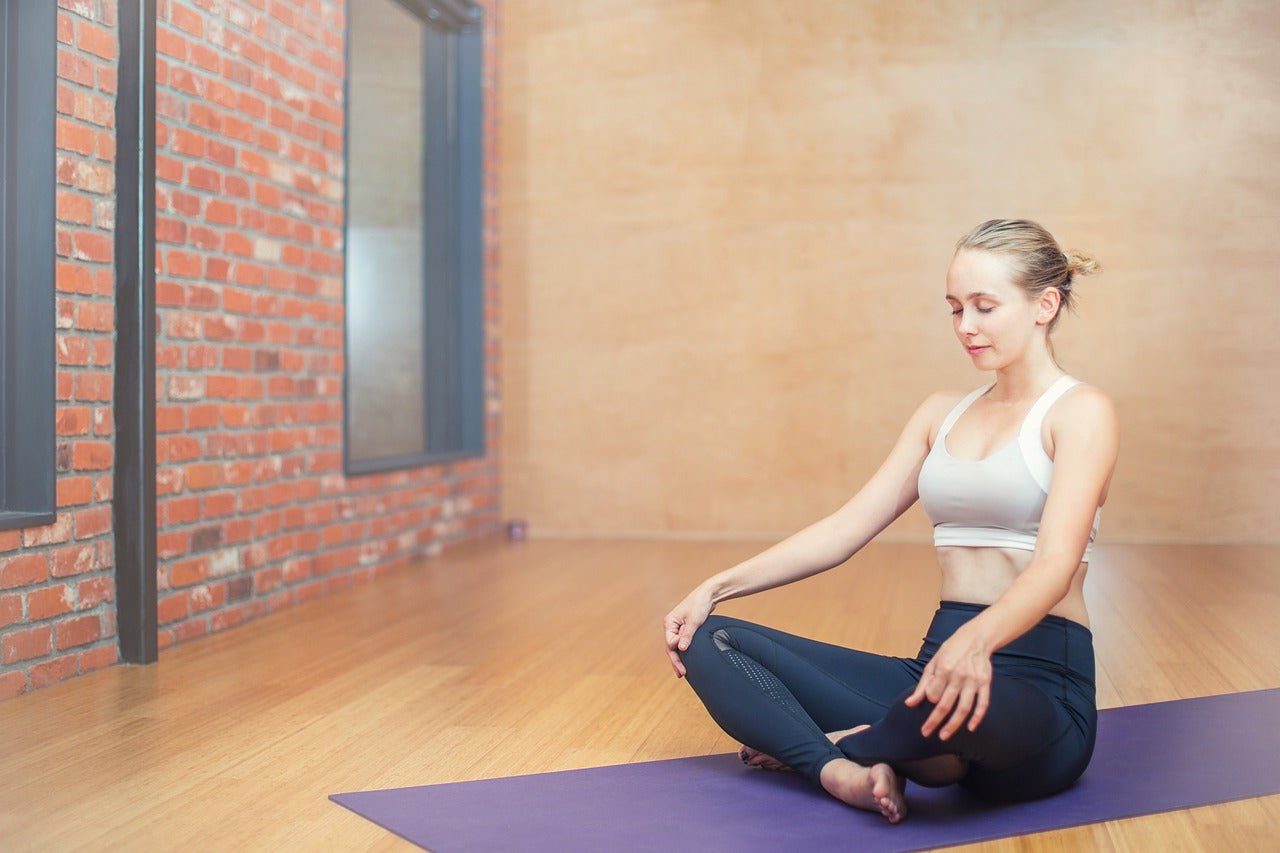 The Rising Trend of Sexy Yoga Pants
Yoga pants have gone from studio-only wear to a versatile athleisure staple that pairs well with most tops and works great in casual and business-casual settings. They're stretchy, comfy, soft, and are easy to wear all day. But can yoga pants be sexy? 
Looking attractive while working out or sightseeing isn't an unreasonable goal, and tons of new athleticwear trends are geared towards being sexy as well as practical and easy to move in. Yoga pants are no expectation. Sexy yoga pants draw the gaze, flatter, lift, sculpt, and add a bit of feminine cuteness and daring to otherwise plain-looking stretch pants. 
Let's dive into the world of flattering, flirty yoga pants, explore why they're becoming so popular, and help you pick a pair that works best for you.
What These Pants Offer
The trend towards cuter and more attention-getting yoga pants can mean more vibrant colors, leather-like fabrics, seams that accentuate the rear end, and interior panels that lift and round up the bum. The result is beautiful, attention-getting yoga pants that compliment you while still being wearable and comfy.
There's no reason why workout gear needs to be dowdy or unflattering. These attractive and bold styles and colors lend themselves to being seen, feeling confident, and accentuating your best features while getting fit. Many women find that feeling beautiful while working out is empowering and helps amp up their routines.
Many of these pants also offer hidden pocket panels to help store a phone, credit card, or small items. This makes them not only cute but also functional and allows them to travel to more places from the studio to the cafe. You can still bring a fanny pack if you want to, but the pockets do give you a few more storage options.
The range of styles and colors available in this category tends to be wider, too. Sexy colors generally pop or offer memorable and unique visual designs that draw the eye and work great with crewnecks. Mixing and matching flirty yoga pants can be easier, too, as the stylish designs lend themselves to being swapped out. 
But are these pants practical for workouts? Will they do well in every setting, or should you avoid them in some places?  
Are Sexy Yoga Pants Practical for Working Out?
Any yoga pants can be practical for basic yoga and Pilates, but determining if this particular style is best for a wider range of activities depends on how they're made.
If you're looking for sexy leggings and want to power lift, getting a pair of squat-proof leggings would be ideal. While yoga pants tend to have slightly thicker fabric anyway, an extra interior panel for added coverage might not be a bad idea. 
What about scrunch yoga pants? These pants feature a rear seam that gently separates and accentuates the bum cheeks, making your rear end look full and peach-like. But are they comfy? 
Most women find scrunch yoga pants suitable for a wide range of activities, but if you're going on a long bike ride, these yoga pants could ride up. We recommend smooth-panel capri leggings for biking, and this style is less likely to get tangled in bike gears. Yoga pants that are flowy and loose should also be avoided on long hikes, as they can drag in mud, and get dirty too quickly. 
Still, biking and hiking aside, these attractive, stretchy pants can go just about anywhere you'd take traditional yoga pants. Let's go over our top picks, and help you find a pair that flatters and motivates you. 
The Peach Lift Ultra Lift (TikTok) Leggings
These leggings are thick and durable enough to count as pants, and the styling on them is truly unique and complimentary. The material is twice as dense as most other leggings (without suffocating your skin), soft, and super stretchy, making it ideal for a wider range of body types. The flattering and noticeable fishnet design draws attention, while the lifting and sculpting elements make the rear end pop. 
You'll also appreciate the firming and smoothing elements on these yoga pants. Available in Pearl White, Bay Blue, Onyx Black, Dark Grey, Rose Red, Soft Green, Rose Pink, Grape Purple, and Lemon Yellow and sizes XS through 2XL, you're sure to find a color that suits your mood and wardrobe. 
Seasum Scrunch Butt High Waist Yoga Pants   
The Scrunch Butt High Waist Yoga Pants from Seasum are truly unique-looking, well-made yoga pants that lift, shape, flatter, and accentuate while being practical, too. Featuring a generous side pocket and a hidden waistband pocket, these yoga pants make it easier to get out of the house and move while looking beautiful. The scrunchy design in the back makes your rear end look great, while the higher waistband flattens the tummy and smooths out the middle. 
Available in Navy Blue, Grey, Pink, Purple, Seaweed, Brick, Black, and Magenta and sizes XS through 2XL, you'll find these yoga pants to be perfect for workouts, casual strolls, sightseeing, and more. Leave the purse at home, and free yourself up for an active, hassle-free day. 
Athleta Release Pant
Looking for something a little more flowy, but still sexy? The Release Pant by Athleta is a cute, eye-catching harem capri that looks like a pair of yoga pants from the back, and a wrap-around skirt from the front. It's beautiful, flattering, and a little more modest than other offerings on this list. 
You'll appreciate the generous, hidden side pockets, forgiving drape, and utterly unique styling of this cute, versatile pair of yoga pants. Available in Black and sizes XXS through 3X, these pants would work well in any setting, and they're proper enough to wear into the office, too.    
Halara Cloudful™ Ruched Flare Yoga Leggings
The Cloudful™ Ruched Flare Leggings by Halara offer a little bit of everything. They have some flare on the bottom, making them look more like traditional yoga pants. They also have scrunch in the back, and offer some lift for your rear end. 
They'd do great in town as well as in the gym and can double as scrubs, casual pants, or jammies. They're pretty and cute, without being too extreme for mixed company settings. They're available in Begonia Rouge, Black, Peacoat, Reddish Brown, and White and sizes XS through 3X.  
Yoga Democracy Festival Denim Printed Bell Bottoms
Can sexiness be subtle, and pattern-derived? The Festival Denim Printed Bell Bottoms by Yoga Democracy would answer "yes" to this one, and they're something a little different. The pattern on these yoga pants is gorgeous. We've never seen anything quite like it, while the shaping, flattering hug, and flare of these yoga pants compliments one's curves and bum.
They're also great for the environment, being made from 79% recycled plastics while still being soft, smooth, and a joy to move in. They're available in a single Peacock Denim color with eye-catching Bohemian florals and sizes XS through XL. They will feel very tight at first, so allow a few washing for the fabric to relax around your midsection. 
Fanka Body Sculpt Leggings
Body Sculpt Leggings by Fanka are sexy, subtle, and sure to draw attention. The beautiful, flattering swirl patterns compress as well as complement, drawing attention to your rear end while improving blood flow with more constriction. You'll get bum lift, tummy control, and a style you can flip inside out.
These are well-made, hard-working items, made from a durable Polyamide and Elastane blend. Available in Black, Navy, Tan, Wineberry, Baked Apple, Forest Green, Barrier Reef, Chocolate Brown, Dark Grey, Kiwi Green, Oasis Green, Lilac Bloom, and Baked Brown and sizes S through XL. We do wish these awesome workout pants came in more sizes, though, as they'd be especially well-suited to bigger athletes!
Final Thoughts
Working out should feel great as well as help you get fit. The more beautiful and confident you look and feel, the easier your fitness journey can be. Sexy yoga pants, whether tight and bum-lifting or flowy and exotic can add some style and flair to your next yoga session, gym day, or even a stroll around downtown.
You'll want to make sure the yoga pants are well-suited for the activity you'll be pursuing. If you're going for a bike ride or a hike through muddy terrain, skip the loose, flowy looks. These designs can get dangerously tangled up in bike chains, or drag in the mud. Apart from this, feel free to wear these yoga pants in casual and everyday settings, and take them with you in town. 
At Fedy Apparel, we want you to find your groove and be comfy with beauty, sexiness, and embrace your inner strength, all at once. We're changing up athleisure, and making sexiness practical, fun, affordable, and high-quality.