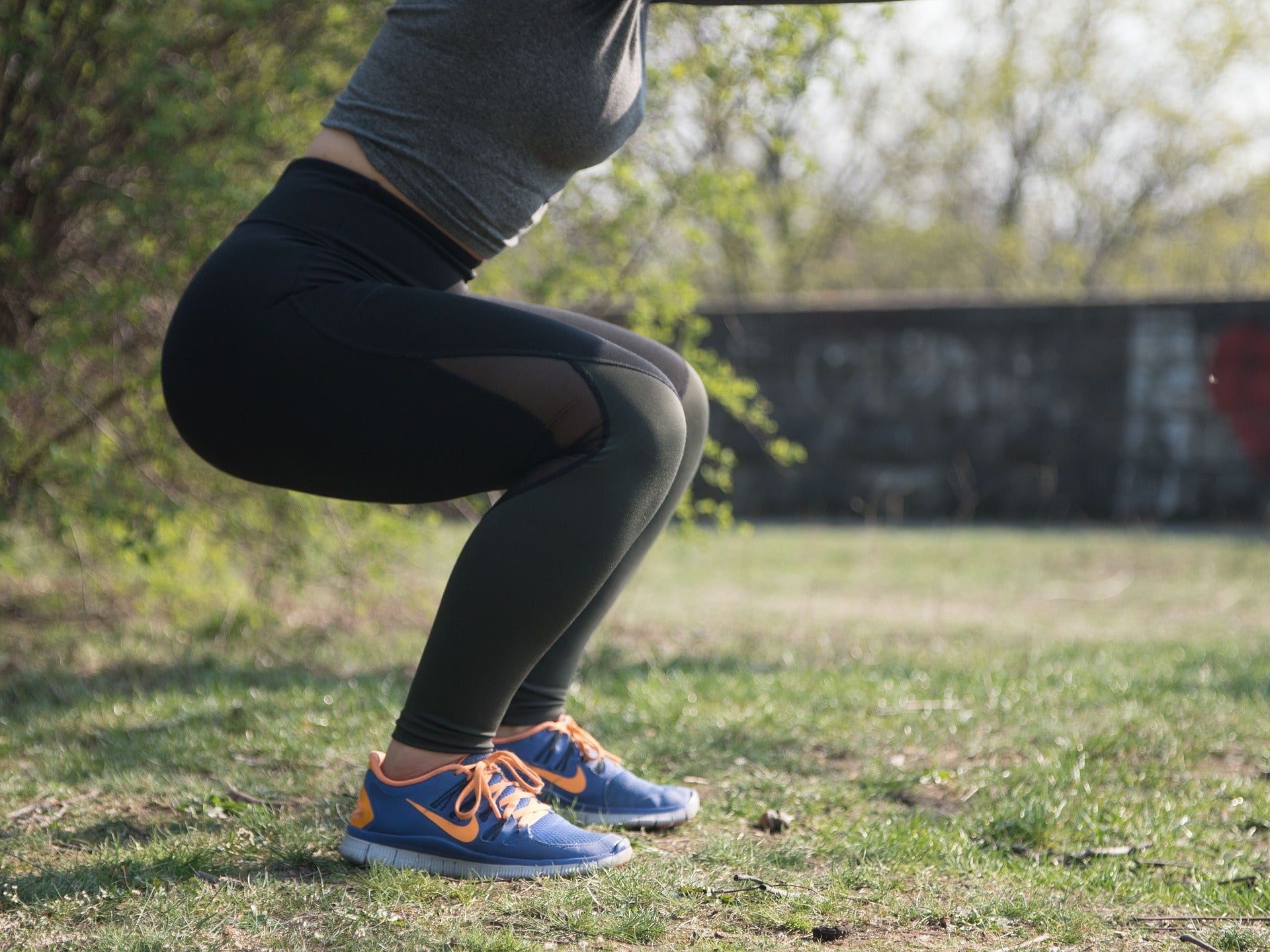 The Best Squat Proof Leggings
Working out takes a toll on the body, and it can take a toll on your activewear, as well. All the bending, squatting, lifting, and strain can overwhelm leggings, and cause some embarrassing transparency issues at the gym.
Long story short, the sometimes sheer nature of leggings can make them tough to work out in. You want awesome flexibility and dignity, too. The solution? Squat proof leggings. 
These tough and rugged leggings are designed to provide full coverage and prevent any transparency or sheerness, even during movements like squats, lunges, or bends. They are made from high-quality, durable fabrics that provide compression and breathability while remaining opaque in any activity. They're essential for anyone who wants to work out confidently without worrying about their leggings revealing more than intended.
What are Squat Proof Leggings
Users can benefit from wearing these thicker leggings in several ways. For example, they allow women to exercise with confidence, knowing that their leggings won't become see-through or cause any embarrassment. This feature can be especially helpful in mixed-sex environments and allows you to focus on your workout instead of how you might look (you'll look fabulous, of course, we're talking more about wardrobe malfunctions here).  
In addition, such leggings are designed to be comfortable and supportive, with features like high waistbands, extra compression, and fabric blends that help keep you cool and dry. This can help reduce any discomfort or irritation during workouts, allowing athletes to perform at their best.
They're made from high-quality, durable fabrics that can withstand the rigors of regular use and washing; you can rely on these leggings to last for a long time and maintain their shape and compression with proper care. 
These more durable, opaque leggings come in a variety of styles, colors, and patterns, allowing users to express their personal style while working out. This can make exercise more enjoyable and motivating, leading to better consistency and results.
The type of material used in these leggings can affect their performance and effectiveness. For example, nylon, spandex, polyester, and mesh are commonly used to provide stretch, compression, moisture-wicking, and breathability. By understanding the different materials, users can choose a pair of leggings that give the right balance of comfort and support for their needs. 
Top Brands for Squats

Numerous brands on the market offer thicker and more modest leggings, each with unique features, pricing, and quality. Here is an analysis and comparison of some of the top brands:
Lululemon is a well-known brand that offers high-quality lunge-proof leggings. Their Align leggings are made from a blend of materials, including their patented Luxtreme fabric, which is both moisture-wicking and quick-drying. Lululemon's leggings typically have a higher price point, ranging from $80 to $150. They do have a cult following among fitness enthusiasts for their buttery soft feel and squat-proof design.
Fedy Apparel's Unshakable Squat-Proof Leggings give you superior craftsmanship, durable stitching, and discrete fabric that helps you bend, squat, and flex with confidence. More affordable than the competition, we want every active woman to look and feel her best. You'll get an excellent blend of high-quality spandex, cotton, and nylon to help keep you covered and moving. 
We incorporate mesh venting to keep you cool while increasing fabric thickness where you need the most flexibility and coverage. Our squat-proof leggings are durable, cute, and work well in any athletic setting.
Gymshark is a newer brand that has quickly gained popularity among fitness enthusiasts. Their Camo leggings are made from a blend of materials, including nylon and elastane providing stretch and support. Gymshark leggings typically range from $40 to $80 and offer a variety of features, such as high waistbands and contouring seams. Users report that Gymshark leggings are comfortable, squat-proof, and provide excellent value for the price. 
Nike is a well-established brand that offers a range of high-quality workout gear, including opaque leggings. They're made from a blend of materials, including spandex and polyester, which provide excellent stretch and compression. Nike's Go Leggings will set you back $110 and Nike Pro leggings offer a classic look with a squat-proof design at a more modest $70.
Athleta is a popular brand that offers a range of high-quality workout gear for women. Their thicker leggings are made from a blend of materials, including nylon and spandex. Athleta's leggings typically range from $50 to $120 and offer features such as mesh panels for ventilation and pocket storage (see Athleta Salutation Stash Pocket Leggings).
90 Degree by Reflex: 90 Degree by Reflex is a more affordable brand that offers a range of workout-proof leggings. Their Interlink Leggings are made from a blend of materials, including nylon and spandex for superior stretch and support. These leggings typically range from $20 to $40 and offer features such as hidden pockets and high waistbands. They're an excellent budget-friendly option that doesn't skimp on features.
Overall, each brand offers its unique qualities, pricing, and range. While more expensive brands like Lululemon may offer higher-quality materials and features, more affordable brands like 90 Degree by Reflex offer good value for the price. Ultimately, it is up to the user to decide which brand offers the best balance of price, quality, and features for their needs.
Making Your Activewear Last 
To ensure the longevity and performance of your leggings, it's important to follow the care instructions provided by the manufacturer. Here are some general tips to help care for and maintain your fitness bottom wear. 
Take note that some leggings may need to be hand-washed or washed in cold water only. To prevent color bleeding, wash your leggings with similar colors. Avoid washing with towels or clothing that may cause pilling.
Use a mild and gentle detergent when washing your leggings. Avoid using fabric softeners or bleach, as they can damage the fabric and reduce its performance.
High heat can damage the fabric and elastic in your leggings. Avoid using a dryer. A better option is to lay them flat to air dry or hang them on a drying rack.
Proper storage can help maintain shape and performance. For example, store leggings folded or rolled up, rather than hanging, to prevent stretching or damage to the waistband.
Finally, leggings can easily be damaged by rough surfaces, such as concrete or gym equipment. Avoid sitting on rough surfaces, and be mindful of any sharp edges that may snag or tear the fabric. Even with proper care, the toughest leggings will eventually wear out. Replace them when you notice signs of wear and tear, such as thinning fabric or stretched-out waistbands.
Environmental Impact and Sustainability
The production and disposal of clothing can have a significant environmental impact, and squat proof leggings are no exception. The manufacturing process involves the use of energy, water, and chemicals, and the disposal of leggings can contribute to waste and pollution. However, some brands are reducing their environmental impact and prioritizing sustainability in their production processes.
One way that brands are addressing sustainability is by using eco-friendly materials. For example, some brands use recycled polyester, reducing plastic waste in landfills and oceans. Other brands use natural and biodegradable materials, such as organic cotton or bamboo, which are more sustainable than synthetic fabrics. 
They are also implementing sustainable production processes, such as reducing water and energy usage, using non-toxic dyes, and implementing ethical labor practices. Some also implement circular business models, which involve recycling and repurposing old clothing to reduce waste.
Some examples of brands that prioritize sustainability in their production processes include: 
Girlfriend Collective uses recycled materials, such as post-consumer water bottles, to make their leggings. They also prioritize ethical labor practices and have a closed-loop production system to reduce waste. Patagonia is known for its commitment to sustainability and ethical production. They use eco-friendly materials and have implemented various initiatives to reduce their environmental impact, such as repairing and recycling old clothing. 
Wolven uses recycled materials and digital printing to reduce water usage and waste. They also prioritize ethical production and have partnered with various environmental organizations to support conservation efforts.
Final Thoughts 
Squat proof leggings are a fantastic friend for any athletic woman, especially if you're working out in a mixed-sex environment. Thicker fabric and discrete panels prevent transparency, allowing you to squat, lift, and lunge with confidence. 
No one needs to know what you're wearing under your leggings but you, and these durable, hard-working clothes can keep you active, and keep you covered. Make sure you choose a good blend of durability and quality, take good care of your leggings by washing them gently and folding them when dry, and be sure to replace leggings as they wear out.