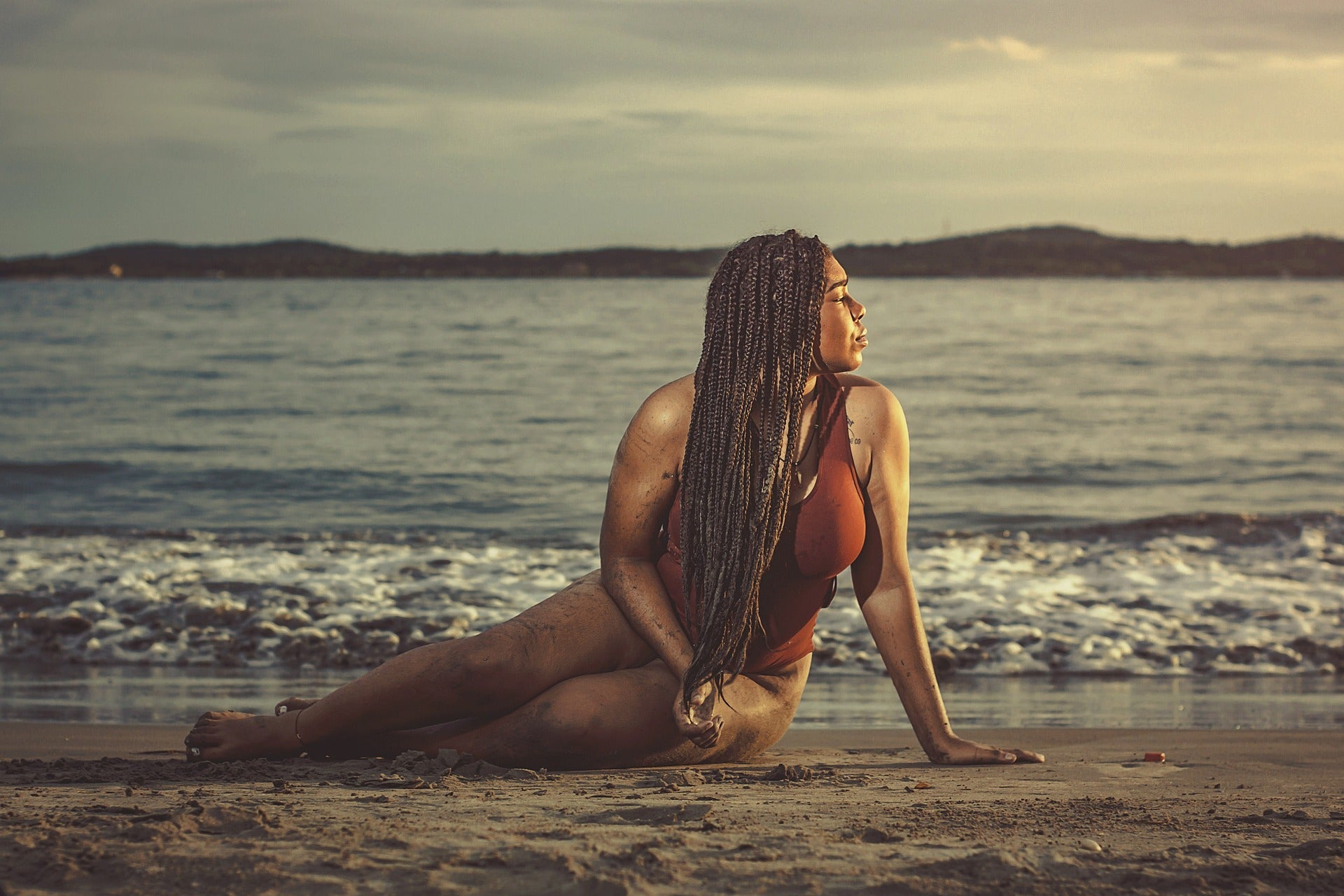 Plus Size Leggings with Pockets: Function Meets Fashion
It used to be that a woman could choose either versatile garments with lots of neat features or… a plus-sized fit. Plus-size athletic wear used to be extremely basic, with minimal (if any) nifty features that made life easier. 
But no more. Plus size leggings with pockets are taking over the women's fitness scene, and the thoughtful (and long overdue) combination of body-positive sizing and convenient pockets make working out easier and more accessible on a busy schedule. The range of styles, colors, and additional features is considerable, and you no longer need to compromise on beauty when it comes to athleticwear meant for bigger women.
So what do these leggings offer, and why should you get a pair?
Why Plus Size 
Why would you even want a pair of these? Don't you already have a ton of leggings? Well, yes, but think about how easier it would be to take your phone with you, instead of having to lug around a separate purse or tote!
Generously sized leggings with pockets are versatile enough to wear all over town or can be paired with a dressy tunic top at the office. They have just the right amount of features to keep you active while providing the storage you'll need for in-town activities, too.
Keep your phone, wallet, or other important items on you, instead of having to remember to take your bag with you whenever you move locations. You'll also get a comfy, soft garment that's fun to wear, easy on bigger figures and stretches and supports in all the places you need it. Are there any contexts where these pants won't be enough?
Suiting Your Needs
While the pockets on bigger leggings will be good enough for a phone or a wallet, you'll still need a gym bag or a purse if you're traveling with more items. The more errands you have to run, the more space you may need. So if you're hitting anywhere besides the gym, beach, or a cafe, you may want an extra bag. 
You also want to consider what to do with car keys. While many legging styles are tough enough to handle keys, the jagged edges and poking metal of car or house keys can wear away, snag on, or tear through delicate fabrics. If all you have is a fob, that should be fine, but consider a larger bag for heavy car keys, or anything pointy and sharp. 
Need a place to put a towel, medications, sanitary products, or sunscreen? Bring a purse or a tote bag. The pockets in these leggings are great for smaller items, but if you need to bring along more than just the basics, you'll need an extra bag.
Still, these supportive, convenient pants are a great addition to any wardrobe, and they pair great with sports bras, tank tops, and even sweaters in colder weather. And with many women opting to use apps instead of cards, keys, or IDs, a single pair of leggings with pockets may be all you need. So what are our top picks?
The Best Plus Size Leggings With Pockets
90 Degrees by Reflex Cold Gear High Waist Leggings with Pockets
Yes, that's quite a mouthful, but the Cold Gear design by 90 Degrees by Reflex is truly worth considering. These beautiful, durable leggings work well in the Winter and Autumn to keep you jogging, running, and working out even in cooler weather. The fleece-lined interior is warm and snuggly, and stretches where you need it. The high waistband gives you the right amount of support to stay active and comfortable.
What about the pockets? They're big enough for a cellphone, and the fantastic, durable stitching allows you to flex and bend with confidence. Available in Black, Russet Brown, Rose Valet, Mocha, and Dragon's Breath and plus sizes L, XL, and XXL.   
Lululemon Arise High-Rise Pant with Pocket
The Arise High-Rise Pant with Pocket from Lululemon is one of those leggings that doubles as skinny sweats. The generous waistband, stretchy fabrics, and high-quality seams are perfect for bigger women, while the cute pockets help you keep your phone on you in the studio.
These beautiful pants are designed for yoga and are best for light-impact activities. They're available in a wide range of colors and patterns, including Java, Pale Raspberry, Powder Blue, and Coal Camo, and plus sizes 16 through 20. 
Athleta Ultimate Stash Capri
The Ultimate Stash Capri by Athleta is a garment we can't recommend enough. Essential plus size capri leggings with pockets, these pants are roomy, stretchy, Summer-ready, and have some impressively generous pockets. They're great for medium and high-impact workouts, and wear great around town, as well.
The build is high-quality, the weave is meant to keep you cool and dry, and you'll feel good about the recycled fabric materials, too. Available in Gulf Green, Dress Blue, Black, and Flare Abstract Maroon, and plus sizes L through 3X. 
Torrid Full-Length Signature Waist Pocket Legging
Torrid's Full Length Signature Waist Pocket Legging is a well-made legging that holds up and is specially made for plus-size ladies. The 2-inch waistband helps keep you smooth and comfortably compressed, while the tapered leg is flattering and moves with you. 
The pockets are discrete but are a bit small (so keep that in mind if you have bigger items), but the comfy cotton spandex blend wears great, and won't chafe. Available in Black, Maroon, Rose Print, and Lightning Bolt Print, and plus sizes L through 6X. 
Lane Bryant Livi High-Rise Soft Capri Legging With Pockets
The Livi High-Rise Soft Capri Legging with Pockets is a well-made and versatile pair of leggings that can move with you no matter where the day takes you. The pockets are especially generous on these leggings, and the fit is feminine and would pair well with any shirt, tank top, or sports bra. 
You'll love the amazingly soft texture, buttery smooth wearability, and 4-way stretch for maximum comfort and high-quality material. Available in Black and sizes 10 through 40.  
Leggings With Pockets (Plus Size) FAQ
Q : Can I wear these leggings to work?
A : That really depends upon your workplace. Many employers, however, are fine with leggings so long as they are not torn, distracting, or printed with inappropriate designs. The pockets make these leggings especially well suited to work, and all of these offerings would be professional and modest enough to be at home in most workplaces.
Q : How big should the pockets be?
A : Most leggings have a pocket that is big enough for a modern smartphone, but you'll want to check the dimensions of the pocket to make sure it's big enough for your needs. Look for pockets that are at least seven inches deep and five inches wide, with plenty of stretch. 
Q : How do I wash these? 
A : Your leggings should wash up just fine in a cold, gentle wash cycle with like colors. Airdry your leggings for greater durability and longevity.  
Final Thoughts
Plus size leggings with pockets are a great addition to an active woman's wardrobe. They're generously sized, comfy, and can take you just about anywhere. The pockets are great for storing a smartphone, cards, or gum, and if you only have a few items, you can leave the purse at home.
You'll want to bring a bag if you have towels, feminine hygiene products, or larger items to carry with you. These leggings would work well at most workplaces, though you'll want to check with your employer to see if leggings are allowed at work. 
Look for generous sizing, high waistbands, comfortable fabrics, and high-quality stitching to help you get the most out of your leggings. Feel free to pair any of these with a sports bra, tank top, tunic blouse, or t-shirt.