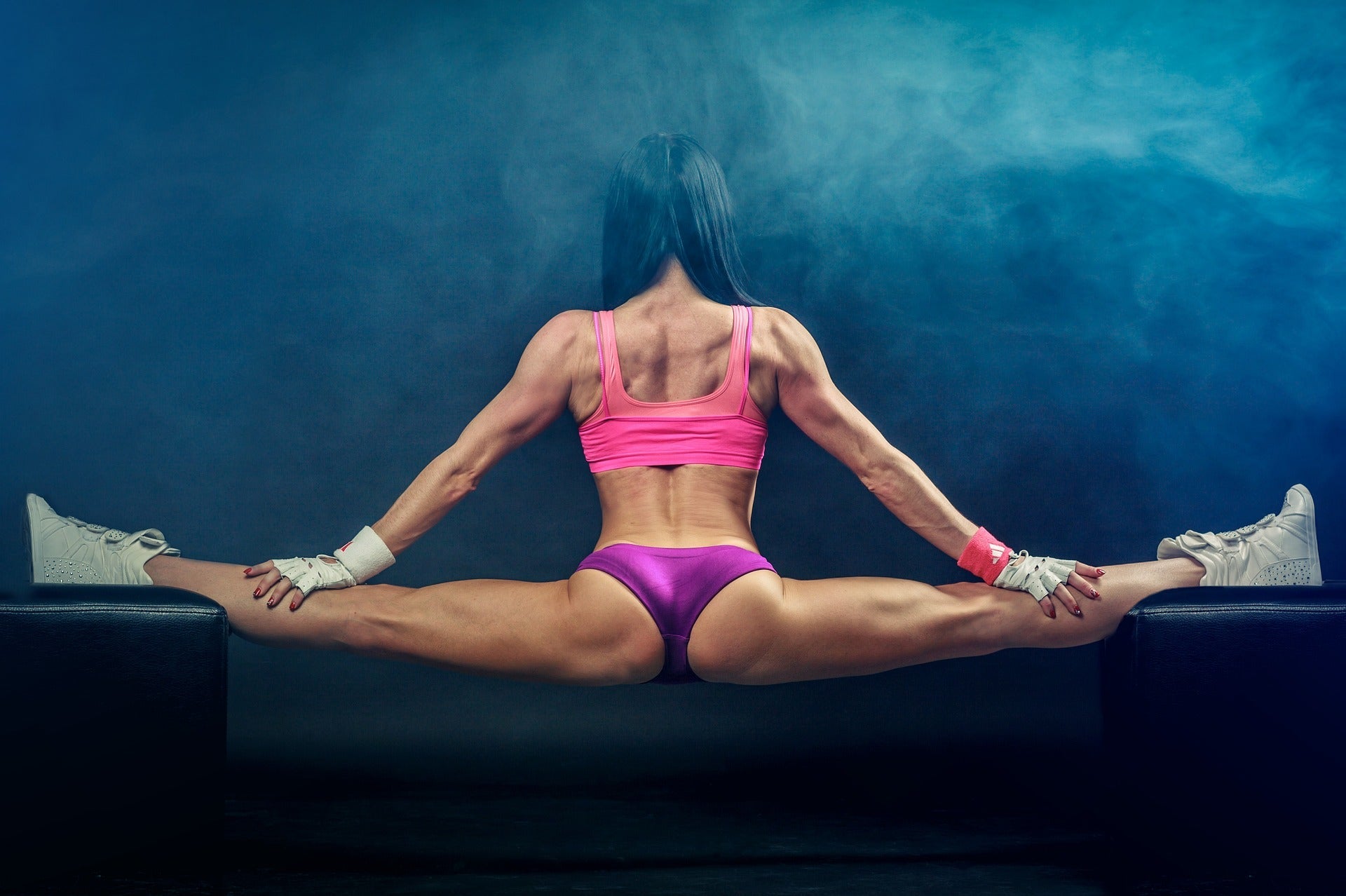 From Gym to Street: Sexy Sports Bras for Every Occasion
Sports bras have gone from being functional and uniform in design to being beautiful, feminine, playful, and great for the gym and the park. Sports bras, first designed in the 1970s, are meant to provide a woman with support and compression during exercise, and today's designs marry functionality and style.
Sexy sports bras, in particular, are a growing trend. While what makes a piece of clothing "sexy" may vary in definition from one consumer to another, most women would describe a flirty sports bra as being beautiful, flattering, noticeable, and capable of accentuating physique while providing confidence during jogs or practice sessions. In other words, these garments draw the eye while filling a role. 
What Makes A Sports Bra Sexy
Some women may wonder why you'd need or want a bra that draws attention as you exercise. Well, wearing something beautiful as you work out doesn't have to be about getting attention. It can also be about boosting confidence, feeling pretty, rewarding yourself, and loving your body as you get in shape and work on fitness goals.
These bras work well under a sweatshirt but can also be worn on the beach or double as a bikini top. They're attractive, versatile, soft, and can be worn comfortably all day. While many local sporting goods stores and clothing retailers sell attractive sports bras, we like to check online first for something truly special and a wider range of styles. Many online retailers can offer designs and colors not readily available in-store, and you'll find a range of options. 
So when should you skip the more attention-getting sports bra and wear something more traditional?
When To Avoid 
While every woman wants to look her best, some activities lend themselves better to pretty activewear. You'll find that most of the styles on our list are ideal for low-impact sports like yoga, light aerobics, and walking. 
If you need more compression, you can either go for a traditional high-impact sports bra or pair a sexy bra with a compression bra underneath. Just size up on your sexy bra and layer for a unique look. That may sound odd at first, but layering with activewear is increasingly common and allows you to get exactly the look you want without compromising on function. 
So, what are the best sports bras out there that combine charm with practicality? We have a list lined up for you from some of the best sports and active brands out there.
Fedy Racerback Sports Bra: Flexone
Racerback sports bras are a classic and highly functional design that looks good and offers maximum support for medium and high-impact activities. They're ideal for full-figured women, too, as the extra strength of thick under-bands and the added grip of the Y-shaped back straps help keep a woman's upper body firmly in place and comfortable.
This bra design was made famous by the bras worn by female sprinters, and you can still see Olympic athletes donning these practical and hard-working tops today. You're more likely to get a higher neckline with a racerback sports bra, making this an excellent choice for women who want a little extra coverage and less distraction while working out. 
Fedy's flexone is a great racerback for everyday wear. The extra coverage and comfort (there's no need to adjust falling straps with the thai design) allow the racerback to double as a casual Summer top, and plenty of women use them for just that purpose. They'll do great on the beach, in town, at a food truck, and at an outdoor concert. 
But a bra that's well-designed and practical can be beautiful, too. The popularity of this design lends itself to a wealth of creativity when it comes down to colors, patterns, and final touches that can make a racerback sports bra sexy and unique. 
The Flexone looks great with jeans, capri leggings, street clothes, or anything else you can throw at them. Feel free to pair a racerback with baggy pants for a mixed look and greater visual balance.
Fedy Sports Bra Swim Top: AquaSculpt
For many women, one of the most frustrating aspects of Summer is the need to change in and out of swimwear. Wouldn't it be helpful to just wear a sports bra as a bikini top? Does such a garment exist? 
Happily, designers have come up with a perfect solution, allowing you to do a sports bra as a top, hop in the ocean, and bounce right back out again without changing. Sports bras made from ocean-friendly materials that can withstand sea salt and pool chlorine are all the rage these days.  
You need more support and compression when swimming, so these bras take into account the physics of water and the comfort of women in the ocean or a pool. They're beautifully designed to help you stay aerodynamic, comfortable, and streamlined in the water without worrying about the garment losing shape or wearing out (as might happen if you try to take a traditional sports bra swimming).
The materials of these bras tend to retain less water (think bathing suit fabrics), dry out faster, and won't get weighed down in the ocean. At the same time, they look great as a regular sports bra and deliver all of the support and practicality you'd get from a sports bra, but not a bikini top. These bras offer good coverage, so if you're looking for a more modest option, check them out. 
The Aerosculpt is Fedy's answer to giving you the best of both worlds, and we've designed a swim top sports bra that's beautiful and as well as functional.
This bra would look great with surf shorts, cut-off jeans, and even a maxi skirt as a coverup once you're out of the water. We're in love with this design's adaptability and feel it would make an excellent top no matter where you're hanging out. And the colors are flattering and work well with every age, body type, and activity. 
Use the AquaSculpt with a swim bottom or chunky jeans for a more balanced look. These bras work great in the water, but the water-resistant fabrics might feel a bit heavy in other settings. While they wouldn't do well in a hot yoga class or an intense hike, they're fine for less strenuous sports or for relaxing with friends. 
Fedy One Shoulder Sports Bra: SoloFlex
One-shoulder sports bras are another beautiful and feminine trend in activewear, and they're excellent for adding some charm, femininity, and allure to your essential workout gear. What's so different about this style?
You'll notice a single strap that fits diagonally across the upper chest, mincing the drape and coverage of an Indian sari. One shoulder gets a strap, while the other shoulder is left bare. This creates a more exciting look, and allows sportswear to cross the bridge into street fashion yet again. You'll find that this look pairs well with jeans or sweatpants to create a casual yet attractive aesthetic that looks excellent in any casual setting.  
The Fedy SoloFlex is your answer for cute and gentle support on the go. Who is this style great for? If you're looking to mix up your look and are tired of sports bras looking all the same, a one-shoulder sports bra could be exactly what you're hunting for. The color palettes of this style can be a bit prettier and bolder, and designers know that women are wearing these bras for aesthetics, stretch, and durability. 
Having said that, the one-shoulder strap design won't give you the support and compression of a two-strap or racerback design. These bras are perfect for low-impact activities like yoga, walking, or even hanging out. They're still stretchy, durable, and can keep you dry by drawing moisture away from the skin. Everything you love about a sports bra plus some extra, subtle sex appeal and a cuter look.
You'll love our higher neckline combined with an eye-catching cutout design. It's a great blend of practical and sexy that can get you some looks while still remaining classy. Wear it on walks, in the yoga studio, for gentle, slow-paced bike rides, and for hanging out in town.
Pair the SoloFlex bra with skinny jeans, scrunched leggings, bodycon pants, or anything else meant to show off your figure and feel beautiful. 
Fedy Maternity Sports Bra: BloomFit
Wait, pregnant women can exercise? Yes, they certainly can! So long as the exercises are gentle and careful, expectant mothers can do yoga, walk, do light stretching, and use small hand weights to help them stay strong and resolve the aches and pains of pregnancy. 
What's different about a maternity sports bra? Of course, these bras are stretchy and comfy but tend to be more generously sized to account for a woman's changing body. Straps are often padded, allowing women to stay comfortable as breast size grows, and many of these bras feature hidden nursing slots or strap clips so active women can breastfeed or pump on the go. Pool exercises are also great for expectant mothers, as the buoyancy of water helps support you while allowing for safer, gentler movements. 
What activities should you avoid while pregnant? Avoid anything high-impact, and avoid activities with a risk of falling or stumbling. That means no bike rides, hikes, and no rock climbing. Nothing strenuous or intense, either. But some beautiful and flattering options exist for basic, light exercise. 
Our Bloomfit Maternity Sports Bra is modern, supportive, and super stretchy. It blurs the line between a traditional bra and a sports bra, making it discrete and cute. The comfy racerback style gives you ample room, while the vented and airy material keeps you comfy. Women do tend to sweat a bit more when pregnant, so staying dry and cool is an extra priority, and this bra works overtime to help keep you feeling fresh. 
You'll appreciate the lower neckline and the mesh fabric beneath the cups, allowing for greater airflow and a cooler experience. You can nurse or pump easily with the detachable clipped straps, and the discrete gray and black color palate will work well with a variety of maternity bottoms, too. Still, this bra is undeniably pretty, and you may want to keep using it for years to come. The BloomFit can work well under clothes, with maternity leggings, or with sweatpants in the backyard.
Fedy Pushup Bra: SculptLuxe
What's the sexiest type of bra out there? Many argue the pushup bra. Since the invention of the WonderBra back in the 1960s, bras that lift and define the female form have won fans all over, allowing women to feel sexy, create a more youthful silhouette, and make bras attractive again. Pushup technology (usually including foam inserts that lift and define) has found its way into a whole host of modern lingerie.
But can this same technology work with a sports bra? Can I have the comfort and stretch of activewear and get an extra lift as well? Happily, many designers are beginning to see the value in allowing sportswear to be pretty, feminine, and sexy. Combining the breathable and pliant materials of active wear with the bolster of lingerie, these bras are cute, hard-working, and would look great at the gym. 
And to an extent, that's the point. Many women head to the gym not only to get fit but also to meet people, be seen, and feel better about themselves. The rise of Instagram, TikTok, and other platforms allows women to document their fitness journey for thousands of followers. For a lot of star influencers, it's important to look great on camera. Gaining popularity in recent years, these bras are meant to turn heads while keeping you fresh, dry, and comfy all day. 
Our Fedy SculpLuxe pushup sports bra works great on higher-impact and gentle activities. Feel free to take it hiking, biking, or jogging, as well as out for a walk or to the yoga studio. The double-layer design helps this bra look amazing while still being practical.
A padded inner layer sits next to your skin, giving you gentle yet noticeable enhancement. At the same time, cushioned straps give you excellent security, support, and coverage. It's a really well-designed blend of practical and sexy, and you can count on Fedy's to deliver high-quality items that can last for years. It's sexy and tough to take your active lifestyle and your femininity equally seriously. 
Pair our SculptLuxe pushup sports bra with tights, jeans, or anything else you want to work out in. The design lends itself well to various styling options and would also look good peeking out from a half-zipped hoodie. 
Fedy High Neck Sports Bra : HaloFit 
Where would a high-neck sports bra be helpful, and can these bras be sexy, too? A high-neck sports bra uses a bit more fabric, giving you a crew neckline while staying breathable and elastic where you need it. Vents, mesh, or extra wide cutout designs are used to help skin breathe while you get more privacy and better coverage.
These bras are perfect for those wanting to focus more on the workout and less on showing off. If you need more compression, these bras keep things snugger and allow you to jog, hike, and mountain bike without worries.  
High-neck sports bras can also travel to more places. The more demure design allows them to double as a top, and you can feel confident and relaxed, donning them in a variety of settings. Still, you want your bra to be flattering and look great. Can modesty and practicality look sexy? We think so.
Our HaloFit high-neck sports bra is a truly attractive and well-made ally for any female boxer, jogger, or soccer player. We're especially fond of the stunning yet simple colors, the flattering design, and the graceful, woven straps in the back. This bra is a work of art, and you'll find it comfortable, dignified, and gorgeous. 
The bra is designed for maximum-intensity sports, has excellent compression, and helps keep you cool no matter what you're doing. And those beautiful x-back straps are fully adjustable. You'll be well-supported and look truly sexy in this one. 
Pair the HaloFit bra style with jeans, sweats, a maxi skirt, surf shorts, and capris for a pretty and adaptable look that can go from an outdoor concert to the track with no issues. 
Fedy's Cotton Sports Bra: SoftMotion 
Cotton has a long history in bra manufacturing. It's a relatively cheap, lightweight, breathable fabric, feels soft against the skin, and is easy to toss into a washing machine or dryer without damaging it. Most activewear contains at least some cotton, and modern sports bras owe a huge debt to this simple, natural, versatile fabric. 
Today, sports bras tend to be made from a cotton blend, usually combined with polyester and spandex fibers to give the bra extra strength and stretch and help it retain its shape. Cotton works well for low-impact and high-impact sports, lasts longer, and can withstand rough wear and tear. 
But can a cotton sports bra be sexy? As women's sports continue to grow and expand into new markets, designers understand that there's a need for sports bras that are stylish as well as simple. Here at Fedy, we've combined both aspects into a single garment. 
The Fedy SoftMotion Bra is simple, beautiful, and looks and works great at the gym. The support and coverage are top-notch, while the aesthetics are timeless. We've sought to marry style, minimalist beauty, and functionality, and this bra is meant to be beautiful in any setting.  
Where can you take this bra? The SoftMotion is perfect for low-impact workouts, and the high neckline makes it suitable for in-town outings as well. It would look beautiful in the yoga studio, on a walk, or in the backyard. Our bra can even handle medium-impact activities, so feel free to take it hiking, hiking, and lifting. 
Pair the SoftMotion with biker shorts, capri leggings, or baggy jeans for an urban fusion look. Pair it with a half-zipped hoodie or a pretty open blouse for an eclectic look and a bit more coverage. 
Fedy's Low-Impact Sports Bra: SoftStride
So, what makes a bra low-impact? These gentle, minimally compressive bras provide cushioning, comfort, and gentle stability for simple, less intense activities. They tend to be a bit lighter and have a more gentle fit, relying on more breathable materials. 
Still, they provide more support than a traditional bra and have excellent sweat-wicking properties, stretch, and durability. They're light enough to replace a conventional bra yet supportive enough to walk or do yoga in. 
The necklines of a low-impact sports bra are often lower than medium or high-impact offerings. This is due to the gentler nature of the exercises these bras are suited for. The lower coverage can make for a wider range of sexy or flattering designs. Low-impact sports bras often double as sexy crop tops and look great with jeans, leggings, shorts, or skirts. 
Our SoftStride Low-Impact Sports Bra gives you a subtle lift and plenty of durable softness. The lightweight materials wear like clouds, while careful stitching gives slight lift and definition. This bra features a rounded v-neck and superior drying properties and is perfect for around town.
Wear a matching set of leggings for an attractive and noticeable look at the gym, or pair it with a longer skirt for a balanced, indistinguishable look at the beach. The SoftStride is also great as a casual Summer top, and the simplicity of this bra makes it ideal for mixing and matching.  
Final Thoughts
Sports bras don't have to be dull or boxy. If you're looking for a flattering, feminine fit that works well with your active lifestyle, a sexy sports bra might be just what you're looking for.
From cotton basics to swim-ready tops, one-shoulder bras, and pushup sports bras, our Fedy Sports Bra Collection is exceptionally well-made, pretty, and built to last. Make sure you pick the right bra for the activity. Choose a medium or high-impact bra for running, jogging, hiking or biking and a low-impact sports bra for walks, yoga, and light aerobics. 
Pair these beautiful bras with leggings, joggers, jeans, shorts, or even a maxi skirt for a cute and Summery effect. Women's sports can allow you to be sexy and tough, and these modern, attractive bras check all the boxes.