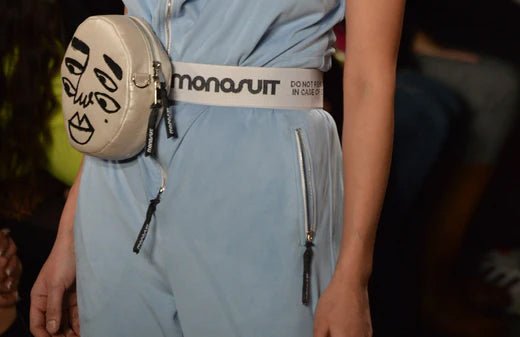 Are Fanny Packs Back in Style in 2023
Remember that Seinfeld episode where George walks around with his fanny pack while lamenting about women, only to have Jerry comment "It looks like your belt is digesting a small animal"? 
Fanny packs were ubiquitous in the 90s, being seen as a convenient way to carry a few more items than pockets would allow and occasionally being ridiculed. Eventually associated with elderly tourists, they fell out of favor by the late 90s. But what can fanny packs really offer, and are fanny packs back in style?  
You may have noticed younger people walking around with fanny packs these days. For many Zoomers, fanny packs represent a time right before they were born when life was simpler, no one had a smartphone, and social media hadn't taken over. 
Along with an interest in 90s' and early 2000s' music and tech, some icons of 90s fashion are coming back in style, too, and fanny packs are one of those items. They're undeniably convenient, portable, and won't get in the way like a tote or a purse would. There's no need to worry about forgetting your stuff somewhere, as it's always clipped to your middle. 
And while athleisure wear is versatile and comfy, the pockets on many of these garments can still run a bit small, making a fanny pack a simple way to bring along a phone, keys, cash, medicine, Zune, or anything else you might need on a jog or a walk downtown. Modern fanny packs can also be worn across the chest, keeping them even closer while allowing optimal freedom of motion.
Why Are Fanny Packs Back in Style Now?
The movie "The Social Dilemma" helped open many eyes to the problems of always-on social media, cell phone addiction, and the mental health issues that come with both. As more and more young people look to disengage from intrusive tech, everything from dumbphones to mp3 players and cassette Walkman players are making a comeback. 
The world of the 90s was more tactile, more connected, slower, and less overwhelming. Young people are looking back to those days for inspiration as they find ways to quit social media, get out in nature more often, and live offline. The fanny pack is the perfect accessory for this lifestyle. 
They're small yet functional, allow you to carry less, and are increasingly made from recycled or repurposed materials, making them better for the environment. They allow you to carry a few more items more securely than would a pocket, and this versatility encourages a more active and outdoorsy lifestyle. 
And so, fanny packs have a unique role in allowing for greater freedom to leave the house with everything on you and are a cultural and tactile connection to a simpler era, where phones had buttons and kids played street hockey instead of Roblox. 
The sheer range of fanny packs available these days is impressive, too. No longer bulky and bland-looking, modern fanny packs can be sleek, stylish, made from vegan leather, and fit in well with the look of contemporary athleticwear. You'll find a range of styles and storage options with modern fanny packs, as well as slimmer designs and a wide range of color and pattern options. 
When To Bring (or Not Bring) a Duffel Bag
Fanny packs are great for smaller trips, but if you have bulky clothes, extra shoes, or larger items you'll still need a gym bag. If you're in a large city as a tourist, however, a fanny pack allows you a secure place to stash some cash, your passport, a phone, and other essentials. 
Fanny packs can't replace luggage, but they can take the place of a small purse or shoulder bag in most situations. They're also a fantastic way to carry along a digital music player, medication, sunglasses, and other small essentials when you're out for the day. The belt allows you to clip on a Walkman, while the adjustable strap lets you change how the item is worn. 
You can also choose to bring along a fanny pack in addition to a small backpack or sling bag to keep things manageable while giving you even more space. If you're traveling with a change of clothes, go for a larger bag. The same can be said for any equipment or items that you purchase throughout the day.
Still, fanny packs are great for storing some small items, especially if you're worried about a phone slipping out of your back or side pockets.  
Fedy Apparel wants to help you get outside and look great doing so. What fanny packs do we offer, and how can these items make your Summer better?  
Fedy Apparel's 2023 Fanny Pack Lineup
The Retro Revival : FEDY White Fanny Pack
Our White Fanny Pack goes with any outfit and has two layers of pockets to help you store everything from a key fob to a phone, cash, and more. The adjustable waist belt allows you to get the perfect fit, and you can feel free to wear this around the waist or strapped across the chest. 
With this waist bag, women can stay active and keep their day-to-day items secure. The polyester fabric is durable and the double-zipped compartments provide optimal storage. Ideal for women on the go, this white belt bag is simple, timeless, and sized just right. 
The Urban Explorer : EDC Fanny Pack in Purple
The EDC from Fedy Apparel is a purple fanny pack that wears comfortably while providing the storage of a small purse. The best fanny pack for women will be cute and practical, and allow you a little extra room on the go. It's a small fanny pack that carries more than you'd think.  
The double pocket zipper compartments keep your stuff secure, while the more attractive color goes well with many tops, leggings, and hoodies. Fanny Packs for women can be stylish as well as functional, and the EDC accomplishes both.  
The Luxe Affair : Small Fanny Pack in Blue
Our Small Blue EDC Fanny Pack is great for active lifestyles and is compact enough to travel with you anywhere. The attractive blue and white color scheme looks great all Summer long, while the durable zippers and belt closure keeps your valuables close.  
The adjustable strap allows you to wear this large fanny pack multiple ways, and it's a great festival fanny pack option, too. Enjoy concerts, fairs, nature trails, and more; free yourself up to do even more this Summer and travel lite. 
The Sporty Chic : Canvas Fanny Pack Green
The Green Canvas Fanny Pack is a super-durable, all-around accessory that would be perfect for the hiking trail or around town. A green fanny pack looks great and blends in well with outdoor gear, while the size and toughness of this item allow it to be used in multiple ways.
A fanny pack diaper bag would be a great way to reduce bulk, and this canvas fanny pack allows you to bring along an extra diaper, snacks, or small toys when you're traveling with a baby. The double zip closures allow you plenty of space, while the adjustable straps help you stay comfortable all day. 
Final Thoughts 
So are fanny packs back in style? Based on all the looks of 2023, the answer is a resounding "Yes!" Fanny packs are convenient, clip right around your middle, and stay with you no matter where you go. The adjustable straps allow you to wear these little guys across the chest, around the waist, or even on your upper arm in some styles. 
As 90s' and early 2000s' nostalgia continue to grow, fanny packs are being seen as a simple, fun way to carry only a few things as you venture outside. The focus on simpler days with just the right amount of tech means that fanny packs will continue to evolve and find a growing fan base. Active men, women, and young people who want something functional and cute to accompany them on the go would be hard-pressed to find a better option. 
George Costanza would approve.